Daniel Dae Hyun Kim, popularly known by the name Daniel Dae Kim is a Korean-American actor, voice actor, and producer. He is known for his films, Lost, Hawaii Five-0, and Angels. He is also known for his role in the Saints Rows series of video games. He has a production company, 3AD and has produced television series, The Good Doctor. He has won 2006 Screen Actors Guild Award for Outstanding Performance by an Ensemble in a Drama Series, and 2006 Asian Excellence Award for Outstanding Television Actor for his work in Lost.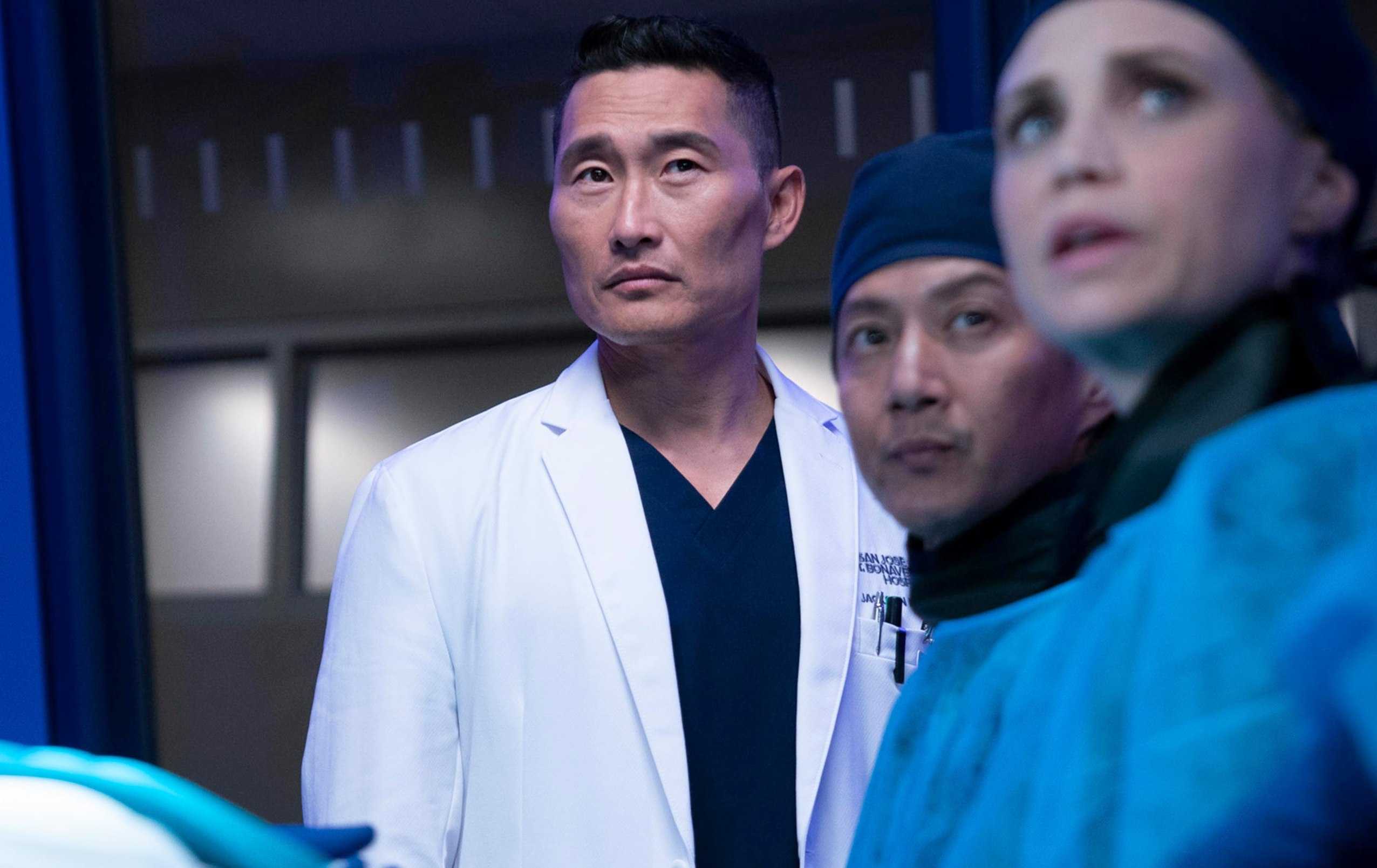 Source: @ew.com
Who is Dr. Jackson Han, The Good Doctor?
Why is Daniel Dae Kim Famous For?
His roles in Lost, Hawaii Five-0, Angel.
His role in Saints Row series of video games.
Producer of The Good Doctor.
What nationality is Daniel Dae Kim?

Daniel Dae Hyun Kim was born on 4 August 1968. His birth name is Daniel Dae Hyun Kim. He was born to a father, Dr. Doo Tae Kim, and a mother, Jung Kim. He is of Asian descent. His birthplace is Busan in South Korea. His family moved to the United States when he was just a year old. He is a dual citizen of South Korea and the United States. His zodiac sign is Leo. He grew up in New York City, Easton, and Bethlehem, Pennsylvania. 
He attended Freedom High School in Bethlehem. After high school, he enrolled in the Haverford College in Pennsylvania, where he graduated with a Bachelor's degree in 1990. He later earned an MFA from NYU's Graduate Acting Program in 1996.
Career of Daniel Dae Kim
Daniel Dae Kim started his acting career in 1992. 
Television
He made his television debut in an American true crime television program, Unsolved Mysteries.
He has then appeared in various television series including Law & Order, All-American Girl, All My Children, Pacific Palisades, Night Man, Beverly Hills, 90210, NYPD Blue, The Pretender, Seinfeld, Ally McBeal, The Practice, Party of Five, Fantasy Island from 1992 to 1998.
He appeared in the 13 episodes of an American spin-off television series, Crusade in 1999. 
He then appeared in Walker, Texas Ranger, Star Trek: Voyage, Once and Again, Charmed, and CSI: Crime Scene Investigation.
He then appeared in a major role as Gavin park in 12 episodes in an American television series, Angel from between 2001 and 2003. 
He then appeared in Any Day Now, Street Time, and Miss Match, and appeared in 11 episodes in an American television series, 24.
He landed the major role as Jin-Soo Kwon in television series, Lost between 2004 and 2010.
He has also appeared in Star Trek: Enterprise, Without a Trace, ER, The Shield, Lost: Missing Pieces, The Andromeda Strain, NCIS: Los Angeles, Hollywood Game Night.
His another major role is in an American action police procedural television series, Hawaii Five-0, where he appeared as Chin Ho Kelly between 2010 and 2017. 
He has narrated 5 episodes of Big Pacific in 2017. 
He had voice roles in television series Avatar: The Last Airbender, Justice League Unlimited, G. I. Joe: Renegades, The Legend of Korra, and Once Upon a Time.
He is the founder of the film and television production company 3AD.
3AD is producing an American medical drama television series, The Good Doctor since 2017. He joined the second season of the show in the role of chief of surgery.
Film
He made his film debut in the 1992 American martial arts film, American Shaolin. 
Later, he has appeared in numerous films including, Addicted to Love, The Jackal, Space Retro, For Love of the Game, 15 Minutes, Nate The Animals, Superman Must Die, Cradle 2 the Grave, Hulk, Sin, Spider-Man 2, Crash, The Cave, The Onion Movie, Arena, Ktown Cowboys, The Divergent Series: Insurgent, and The Divergent Series: Allegiant.
He had a voice role in the 2018 film, Mirai. 
He has appeared in the 2001 short film, Looking for Bobby D, and 2003 Direct-to-video, Ride or Die.
He narrated the 2013 documentary, Linsanity. 
He upcoming films are Hellboy and Always Be My Maybe. Both films are scheduled to premiere in 2019. 
Video Games
He has appeared in several video games including Tenchu: Wrath of Heaven, 24: The Game, Saints Row series, Scarface: The World Is Yours, Avatar: The Last Airbender –  The Burning Earth, Apache Overdose Gangstar III and IV, and Agents of Mayhem.
Who is Daniel Dae Kim married to?

He is a married person. He is married to Mia Kim. They tied a knot to each other in 1993. The couple is blessed with 2 children, Jackson Kim, and Zander Kim.
He lives with his family in Honolulu, Hawaii. 
Body measurements
Daniel Dae Kim stands at a height of 1.75 m i.e. 5 feet and 9 inches tall. He has a body weight of 158 lbs i.e. 72 kg. He has average body build. He has maintained his body well. He has dark brown eyes and his hair color is black.
What is Daniel Dae Kim's net worth?

The net worth of Korean-American actor and producer, Daniel Dae Kim is estimated at $10 million. He has appeared in numerous films and television shows since 1992. He also founded the films and television production company 3AD. Thus, his main source of income comes from the entertainment industry.
Did You Know?
People Magazine named him one of the Sexiest Men Alive in 2005.
He made his Broadway debut as the King of Siam in Rodgers & Hammerstein's The King and I at the Lincoln Centre Theatre in New York in 2016.
He is represented in America by United Talent Agency and has signed with SidusHQ to manage his activities in South Korea.
He served as Cultural Envoy and Member of the U.S. Presidential Delegation for the United States at the World Expo in Korea.