Letitia Ann "Tish" James, popularly known as Letitia James is an American lawyer, activist, and politician. James is the current attorney general of New York. She succeeded Barbara Underwood in 2018. James previously served as the New York City Public Advocate from 2013 to 2018. Prior to that, she served as New York City Council member from 2004 to 2013. 
What is Letitia James Famous For?
Current Attorney General of New York.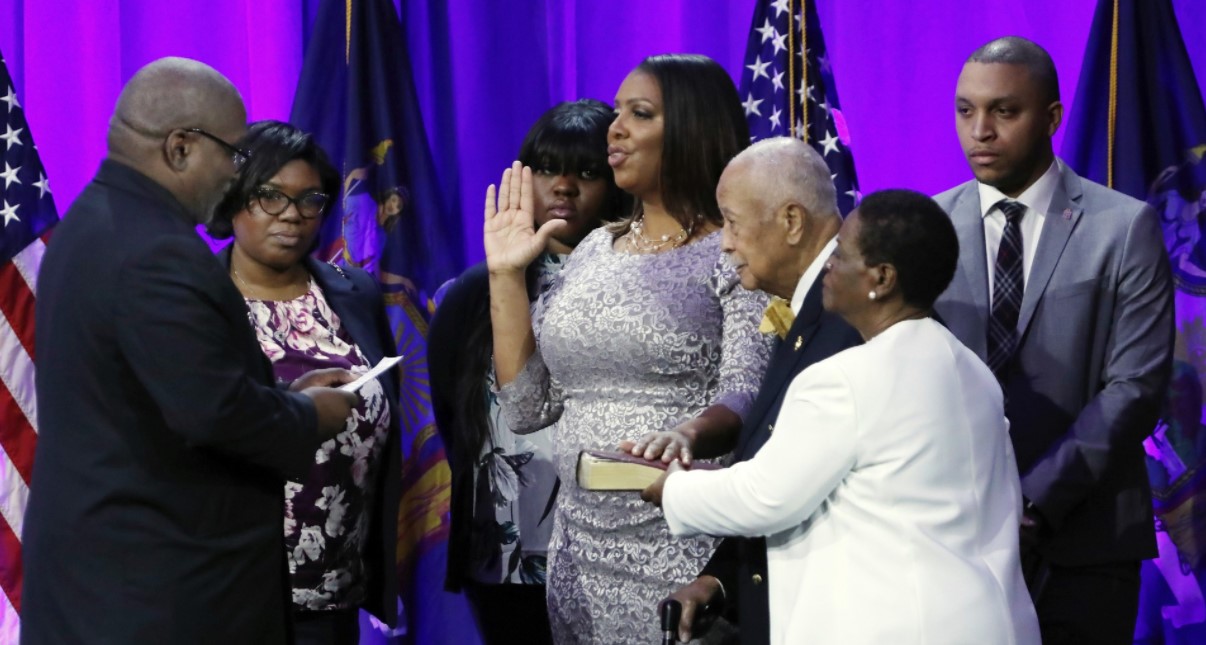 Source: @whur
Where is Letitia James From?
Letitia James was born on 18 October 1958. Her birth name is Letitia Ann James. Her birth place is in New York City, New York in the United States. She holds an American nationality. She was born to her father, Robert James, and her mother Nellie James. She has 7 siblings. She belongs to the African-American ethnicity and her religion is Christianity. Her home town is Park Slope, Brooklyn. Her zodiac sign is Libra.
Regarding her educational background, She attended New York City public schools. She later attended Fort Hamilton High School. After graduating from high school, she attended the City University of New York's Lehman College, where she obtained her B.A. in 1981. She later earned her J.D. degree from Howard University School of Law.  
Letitia James Career
James was admitted to practice law in New York State in 1989.
She served as a public defender for the Legal Aid Society. 
She established the Urban Network, a coalition of African American professional organizations aimed at providing scholarships for young people.
She served on former New York Governor Mario Cuomo's Task Force on Diversity in the Judiciary. 
She served as counsel for Albert Vann, Chief of Staff for Roger L. Green in the New York State Assembly, and in the administration of New York Attorney General Eliot Spitzer.
In 1999, she was appointed the first Assistant Attorney General in charge of the Brooklyn regional office. 
She then ran for the 35th Council district in 2001, which she lost to James E. Davis. 
After Davis was assassinated in 2003, she defeated Davis's brother Geoffrey for his vacant Council seat. 
She served as a member of the New York City Council from 2004 to 2013.
James originally advocated for the demolition of the Second Empire houses on Admiral's Row in order to build a parking lot for a proposed supermarket to serve residents in nearby housing developments, but later supported preserving some of the historic housing.
In May 2013, with a group that included construction unions, community groups, and other elected officials, she was a part of an Article 78 lawsuit against the Bloomberg administration and Acadia Realty Trust seeking the shut-down of the City Point real estate project and a reassessment of its environmental impact.
In June 2016, James attempted to pressure six financial institutions, including BB&T, Berkshire Bank, Citizens Financial Group, People's United Bank, Regions Financial Corporation, and TD Bank, into ending its practice of providing financial services to gun manufacturers.
She served on several committees during her tenure as New York City Council member. She chaired Committee on Economic Development and Committee on Sanitation. She also served on committees on Parks & Recreation, Small Business, Technology in Government, Veteran Affairs, and Women's Issues. 
She won the runoff election to become the Democratic nominee for New York City Public Advocate in 2013. 
From 2013 to 2018, she served as the New York City Public Advocate. 
She initially planned to run for Mayor of New York City in 2021.
She declared her candidacy for Attorney General of New York City in 2018. 
She won the Democratic primary in September 2018 and defeated Republican Keith Wofford in the general election in November 2018 to become the New York Attorney General. 
She was sworn in on 1 January 2019 and succeeded Barbara Underwood. 
She filed a civil lawsuit against the  National Rifle Association (NRA), with four NRA department heads named as co-defendants in August 2020. The NRA filed a countersuit against James, citing statements she made during her 2018 campaign.
Her office released a report finding in August 2021 that New York State Governor Andrew Cuomo engaged in multiple acts of sexual harassment.
Is Letitia James Married?
Letitia James is not married. She has never been married. She has never spoken publicly about why she never felt to get married and have a family. Thus, she does not have any children. More details about her personal life will be updated soon. 
She lives in the Clinton Hill neighborhood of Brooklyn. 
How Tall is Letitia James?
Letitia James stands at an average American height. She stands tall. She has a well-balanced body weight. She has an average body build. Her eye color is dark brown and her hair color is also dark brown. Her sexual orientation is straight.
What is Letitia James Net Worth?
Letitia James is a government servant. She serves as the Attorney General of New York since 2018. For her position, she receives a good salary. She previously served as the New York City Public Advocate from 2013 to 2018 and New York City Council from 2004 to 2013. She has dedicated her life to public service since 2004. At present, her net worth is estimated below $5 million. More details about her wealth and net worth will be updated soon.
Did You Know?
She is a member of the Democratic Party.
She is the first African-American and the first woman to be elected to the Attorney General.
She acquired a Master of Public Administration degree from Columbia's School of International and Public Affairs in 2013.
She was the first citywide office-holder to run solely on the WFP line.
She is the first member of the WFP to win office in New York State.
She is the first third-party member to be elected to the city council since 1977.