Sarah Jessica Parker is an American actress, producer, and designer who is best known for her role as Carrie Bradshaw on the HBO television series, "Sex and the City". She even won two Emmy Awards, four Golden Globe Awards for Best Actress in a Comedy Series and three Screen Actors Guild Awards. Parker is recognized as one of the greatest female characters on American television. She also has launched her clothing line, "Bitten" and fragrances like "Covet", "Lovely" and "SJP NYC".
What is Sarah Jessica Parker Famous for?
Famous for her role as Carrie Bradshaw on the HBO television series, "Sex and the City".
Where was Sarah Jessica Parker Born?
Sarah Jessica Parker was born on March 25, 1965, in Nelsonville, Ohio, United States. Her birth name is Sarah Jessica Parker. Her nationality is American. Parker belongs to mixed ethnicity while Aries is her zodiac sign. 
Who is Matthew Broderick?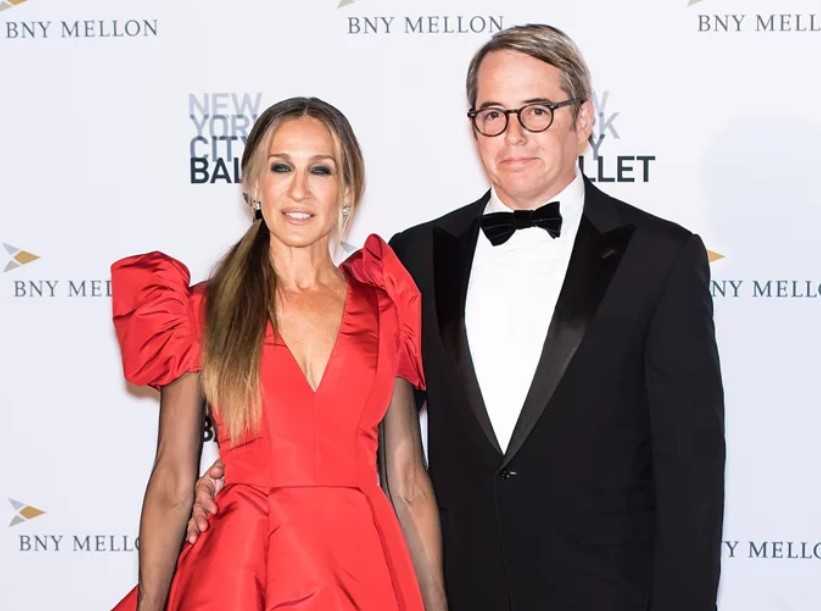 Source: @popsugar
Sarah Jessica Parker was born in a well-to-do family to Stephen Parker(father) and Barbara Parker(mother). Her father was an entrepreneur and journalist while her mother was a nursery-school operator and teacher.  
Her parents later divorced, and her mother remarried Paul Forste and had four more children, thus making Sarah as one of the eight children of her mother. Her brothers are Andrew Forste, Aaron D. Forste, Timothy Britten Parker, Pippin Parker, and her sisters are Rachel Parker, Megan Forste, Allegra Forste. 
Parker trained in singing and ballet, while she was young and she was cast in the Broadway production of "The Innocents" in 1976 at age of 11. After which they moved to New Jersey where she got more specialized training in acting.
Later, the family moved to Englewood, where she attended Dwight Morrow High School and later, she attended the School of American Ballet. She continued to join the New York Professional Children's School, the School for Creative and Performing Arts in Cincinnati, and later graduated from Hollywood High School in Los Angeles.
Her mother and stepfather helped her to focus her career as a child actress. Parker alongside her four siblings appeared in a production of The Sound of Music as well. Later, in 1977, she was selected for the role of "July" in the Broadway musical "Annie:". 
Sarah Jessica Parker's Career Highlights
Sarah Jessica Parker started her professional career with the lead role of the CBS sitcom, "Square Pegs" in 1982. 
She then appeared in other films like "Footloose", "Girls Just Wanna Have Fun", "Fight of the Navigator", "L.A. Story", "Honeymoon in Vegas", "Hocus Pocus", "Ed Wodd".
In 1993, she starred as a police diver opposite Bruce Willis in the film, "Striking Distance". 
In 1995, she starred in the off-Broadway play "Sylvia", alongside future husband Matthew Broderick.
In 1996, she appeared in the film, "Mars Attacks!" and "The Substance of Fire" and also in "' Til There Was You"(1997). 
Parker got her breakthrough career after she was cast as Carrie Bradshaw on the HBO television series, "Sex and the City" in 1998 till 2003. Parker received two Emmy Awards, three Screen Actors Guild Awards, and four Golden Globe Awards for her performance.
In 2005, Parker reunited with First Wives Club co-star Diane Keaton in film, "The Family Stone". 
She appeared in the romantic comedy, "Failure to Launch" in 2006. 
Source: @people
Later, she appeared in the sequel film, "Sex and the City 2″(2010) and then in the romantic comedy New Year's Eve(2011).
In 2013, Parker voiced in an animated film, "Escape from Planet Earth". 
In 2015, she starred in the independent romantic comedy, "All Roads Lead to Rome".
Parker has been working as the executive produced and starred in the HBO dramedy series, "Divorce" since 2016. 
In 2018, Parker starred and produced the independent drama, "Here and Now". 
She also runs her own production company, Pretty Matches since 2005. 
In the ongoing situation of COVID-19, Parker alongside her husband, Matthew is engaged in rehearsals for the Broadway revival of 'Plaza Suite'. 
Who is Sarah Jessica Parker Married to?
Sarah Jessica Parker is married to her husband, Matthew Broderick. Matthew is also an actor and comedian. The couple met for the first time at the Naked Angels theater company, where Parker and Broderick both performed. 
They got married on May 19, 1997, in Manhattan's Lower East Side, in a civil ceremony which was covered by Matthew's sister. Parker and Broderick together have three children: a son, James(b. 2002) and twin daughters, Marion and Tabitha(b.2009) via surrogacy. 
Previously, Parker dated actor Robert Downey, Jr. They met on the set of Firstborn and began dating since 1984 for more than 6 years until they got separated in 1991. Parker alleged for her break up to be Downey's drug problem. She briefly dated John F. Kennedy Jr.
Currently, Parker is living a happy life with her husband and children in their double-wide house on West 11th Street. 
What is the Net Worth of Sarah Jessica Parker?
The 55 years old Sarah Jessica Parker has quite a great earning through her professional career as an actress. Being in this industry for more than 4 decades, she has managed to amass a fortune worth million dollars from her several movies and series. 
Her estimated net worth is around $150 million. 
She also makes money from her clothing line, "Bitten" and fragrances like "Covet", "Lovely" and "SJP NYC". She even started the SJP Collection, a footwear line. Besides, she also makes money from several endorsement deals as in August 2003, Parker signed a lucrative deal with Garnier. Also, Parker signed a $38 million contract with the Gap. 
How Tall is Sarah Jessica Parker?
Sarah Jessica Parker is a gorgeous lady in her mid-50s. Parker has a well maintained slim body physique of measurement 37-24-34 inches. She stands tall with a height of 5ft. 3inch.(1.6m) while her body weighs around 56kg(123 lbs). She has a fair complexion with blonde hair and blue eyes.